So, here we are finished with week 1 of the transform 30!
Check in to hear my progress:

Keeping my meals simple has really been key. Not making it complicated. Here's a receipe that I've made for Lunch: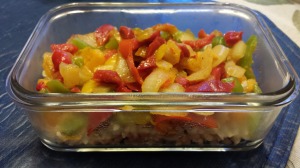 1 cup of brown basmati rice (cooked)
Three pepper mix with 1 onion (green, yellow and orange)
Salt, Pepper, Garlic Powder
Olive Oil
Cook the three pepper mix and onion with the olive oil, salt, pepper and garlic powder until tender. There should be some liquid left.
Throw the pepper mixture on the cooked basmati rice. Then, eat up!!!
DONE!!
My energy level has been kicked up a couple of notches as well. I've noticed that my day has gone a lot smoother and has a better flow to it. It doesn't seem to dragg.
Since my energy level has been so good, climbing Stone Mountain 3 days this past week has been easier each time. You can just feel it.
I've also noticed that my ankle that has always been swollen, is not anymore. It makes me believe that what you put in your mouth really determines how YOU feel. As well as what your body feels.
So, cheer me on as I bring you the next video soon.!!!
Your Inspiration,
Priash M